Devblog 178
Chairs, vehicle tests, and more.21 September 2017
Chairs
Well that got a little out of control… after having to pull them from last week's update I've managed to sort out all the kinks and exploits sorted, and you can now sit and look around in chairs. Sitting in a chair will provide 100% comfort. It also looks pretty cool with a group of people sitting around a table #roleplay!
Honestly, I wasn't meant to put this much work into them, but I just got on a roll and all the pieces kept falling into place. It may seem like adding a chair is a ridiculous thing to work on, but this is all based on the foundation of a mountable object, and this foundation is now very near complete, so complete infact that I was pretty easily able to add…
Vehicle Test
Let me start off by saying:
It is not available in vanilla Rust.
I don't know when it will be.
When we do add it, it'll be balanced.
I could not resist the juicy, ripe, low-hanging fruit that presented itself after finishing the chairs. With all the pieces just falling together I had to see how feasible it would be to create a vehicle, so I tried first with the chair…
Once everything was working in that test, I moved on to implementing it on a vehicle. If we do decide to go ahead and implement it in-game, I'm thinking it'll work like this:
You'll find a broken down car at a radtown, but it will be missing many components to get it running again, including perhaps some kind of engine part component that has a server limited finite population. That is, say, 15 are active in-game at any given time.
Driving the vehicle will use a lot of fuel, perhaps not even low grade fuel. It'll have a lot of storage, and multiple players can mount it. I'll make sure the driver cannot use all weapons while driving. Either nothing, or maybe just pistols.
As the vehicle drives, it will constantly be calculating a 'break' probability based on distance traveled. When the vehicle breaks, its max speed will slow and you will need to repair it with some components. The more you force it to drive, the more broken it gets, and it'll require more and more to keep going so constant maintenence would be best. Driving off a designated road will drastically increase the breaking chance, this way people will need to stick to roads unless they drive at a crawl.
How does that sound? This would just be for getting this test vehicle in-game. Keep in mind we have plans for vehicle in 2018…
I'm probably not going to put much more work into vehicles unless the demand is off the charts. There's still loads to do on the roadmap for December! Let me know!
Roadmap Updates
I've shuffled the roadmap around a bit. I've increased the granularity of each task so we can cross them out piece-by-piece, instead of it being binary. This way you'll get to see the progress being made instead of all of a sudden having four things marked as done every month. As you can see, we've made progress on many different things but haven't completed them. I'm going to strive towards knocking them out, as we need to get atleast three complete per month to stay on target.
Helicopter/Sentry Fixes
While recording a demo I noticed that at low timescales the autoturret and the helicopter would keep shooting at the same fire rate. I also noticed if the server hiccuped they would fire a bunch of shots like a shotgun. This is now fixed.
Map Exploit Fix
An exploit involving the map entity causing servers to experience low framerates was fixed. Server owners rejoice!
Snow Biome Improvements
With the first ice lake complete, I'm now working on revamping the icebergs and expanding the playable area into the ocean. There's not much to show this week yet, but you will find a sneak peek below. Overall, the new icebergs will be much more angular, with some of them having large flat areas on top that will allow for building. In addition, the ocean around the icebergs will be covered with large, floating ice sheets allowing you to reach the icebergs on foot.
Player Models
After being able to see your new player models on Staging last week, some of you were quite vocal about how you felt about your new face. Not everyone's going to look like a supermodel, and that's by design. I think people in Rust should look like a sample of normal people, how you look is a genetic lottery and no different to your gender or ethnicity.
Having said that, there's clearly a difference between being unattractive and straight up looking deformed. We had some discussions about what we felt was wrong, rating each face under identical lighting conditions. The Asian heads definitely came out the worst, which wasn't all that suprising considering they were sharing the same materials as the Caucasian heads.
First step to de-ugly them was to bake out their own set of textures and give them a dedicated material. I'd hoped that Caucasian and Asian faces would have shared enough features for sharing to not be an issue, but this clearly wasn't the case. I've also introduced a little ambient lighting to the diffuse (this is normally a sin in game art, but for such an open and procedural world like Rust, ambient lighting is always going to be an issue). I've reworked the facial shapes a little, but for the most part the geometry has only undergone small changes.
The rest of the heads will be getting some attention, although probably not to the extent of the Asian set. I'll be targeting the worst offenders in our rankings in an effort to make them more realistic. There'll always be issues beyond our control that may make you look different to how we intended: fov, lighting, quality settings (like contact shadows), etc. But hopefully these changes improve the lives of those unlucky to roll one of the uglier faces
Check out the currently updated ones below as well as the comparison video.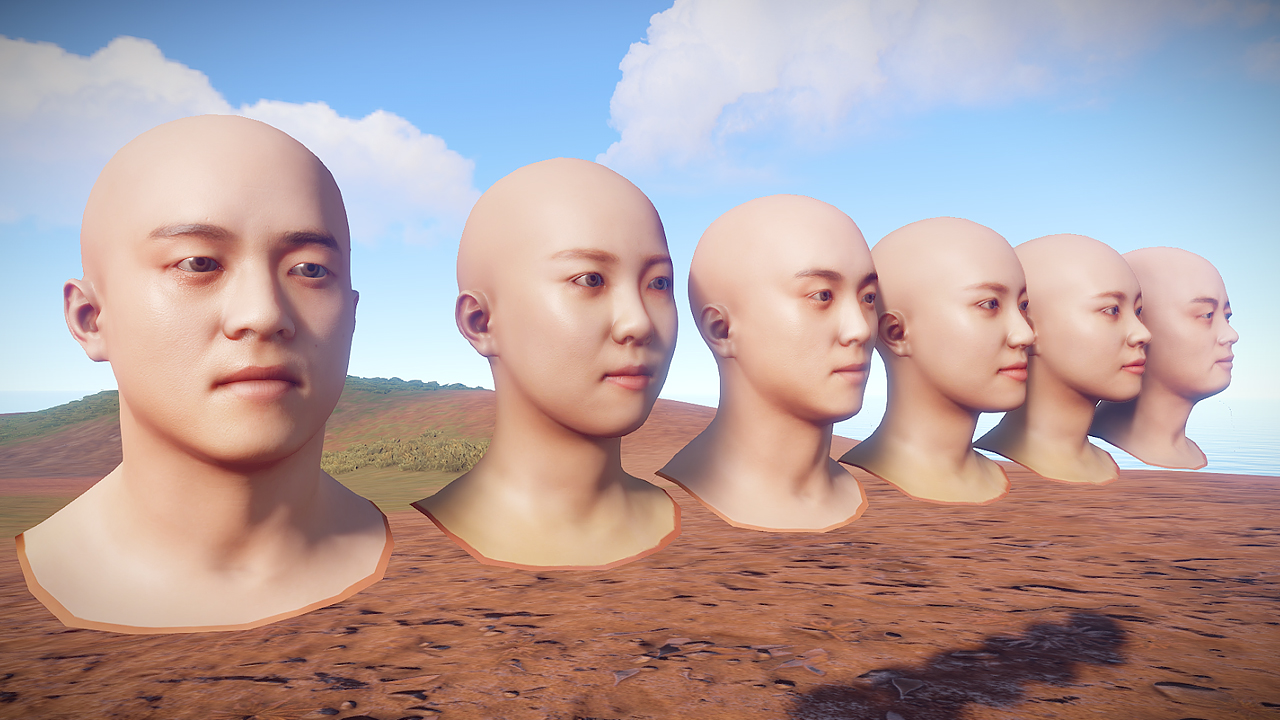 Penumbra Shadows
This is something I always wanted to integrate into Rust. Not only because it looks amazing but also may improve the gaming experience by making it more pleasing and realistic.
Penumbra shadows are what we call the approximation technique we use to get shadows appear softer as they are further away from the occluders. This is a really old technique that's finally becoming popular due to advances in graphics hardware.
The feature is not excessive in regards to performance and should run reasonably well from NVIDIA GTX 970 or AMD R9 380 and above. You can enable it via Graphics menu by turning Shadow Quality to 2 (highest). Once enabled, it works for all types of lights, including torches, flashlights and even sun/moon shadows.
This new feature, along with Damian's changes to the grass will turn night time into a smoother experience: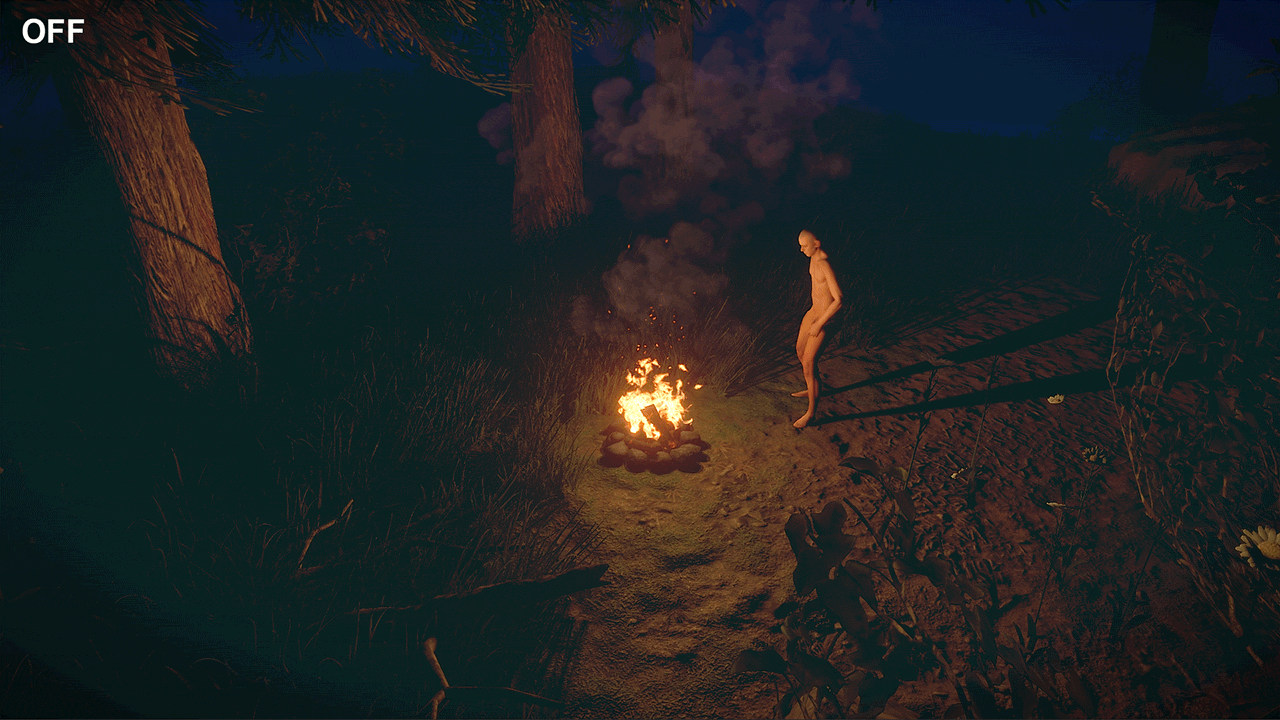 Your interiors are about to get a facelift!